A lot has been said about the iPhone's ability to locate the user; the new 3G iPhone actually uses GPS to do this, while the original iPhone just uses triangulation from cell-phone towers to figure out where you are.
The triangulation method should work reasonably well for most purposes (i.e. 'what town am I in?' at the very least), but my experience lately has been that this isn't the case.
The other day, I hit the Locate button and got this result. Click on the picture for a bigger version: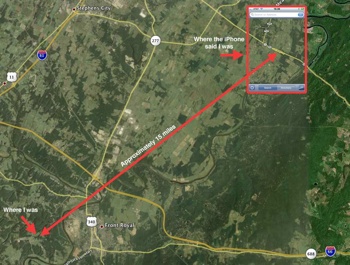 Where I was standing, the terrain is such that there's no signal at all from the south and west. Where I was standing, the elevation is 700 feet, and the mountains are about 2300 feet. You can see the problem (if you squint) in this view looking roughly south. Click for a bigger version: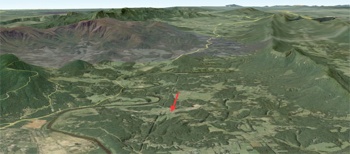 There's also a low ridge between the airport (where I was standing) and the town of Front Royal itself. It's not enough to really notice, but it's enough to block cell phone signals. My guess is that the phone could get only one signal, and that this was from a cell site on or near Mouth Weather, which is just NE of the identified (wrong) location. All the system could tell was that I was somewhere on a line roughly 210 degrees from that tower.
The lesson: cell-phone triangulation location information can be ridiculously inaccurate when in areas with interesting terrain and poor coverage. More importantly and less obviously, the locator system appears to be unable to reliably determine when this is the case.