A leading indicator, as the term is usually used, is a factoid that can be used to predict other factoids down the road. The business TV people love to talk about 'durable goods orders', for instance, even though I don't think this is a very good indicator. People want fewer durable goods, and therefore you can infer from that that the people who work in the durable goods factories might soon be laid off, the suppliers of durable raw materials will soon see their orders shrink, etc., etc. The lack of orders leads the other things.
I don't think that this makes much sense any more, largely because I think that the old models of the world economy are enough out of whack with current reality; I don't think the models adequately consider the enormous increase in the velocity of information we've seen over the past ten or fifteen years. It used to be that by the time the durable goods factory (for instance) cut shifts, there was already a huge supply of durable goods in the pipeline, and the slowdown in demand had in fact been going on for quite some time. Today, a well managed company is going to make much quicker changes, so you'd expect to see more, smaller corrections rather than big, disruptive ones that come too late anyway.
And when the durable-goods factory does lay people off, they're going to be able to find new jobs much more easily somewhere else thanks to the Internet. It used to be fairly complicated to get information about things outside about a 50-mile radius from where you were standing; now, it's extremely simple. We understand this on some intellectual level, but our models of the world — both the informal ones we use to make sense of things, and the formal ones that the people on CNBC use to attempt to predict the future — have not fully integrated that information yet.
But this isn't what I mean. I mean, I'm interested in what you might call micro leading indicators, the signs that indicate that a company or organization has just stopped giving a damn. These aren't necessarily customer-service failures in any meaningful sense of the word, but things that suggest a plan or style of management that could lead to serious failure if the course doesn't change. I saw a number of these yesterday at Costco.
The camera display there: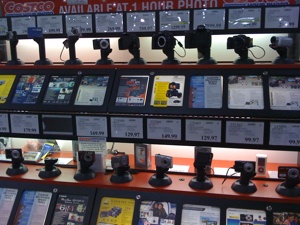 There are two problems here, really. The first, more subtle one, is that most of these cameras suck, and they're almost all the same ones that have been sucking there for at least a couple months. Costco has never been a good place to buy cameras if you are particular about what you get, but it's got worse in the past few months.
The more serious problem is that none of these cameras have any power. No batteries, no plugged-in power. The SLRs don't even have lenses. This is a change from Costco's previous approach. It means that Costco has spent the cost of one of each of these cameras for the purposes of a demo — but you can't actually demo them because none of them do anything without power.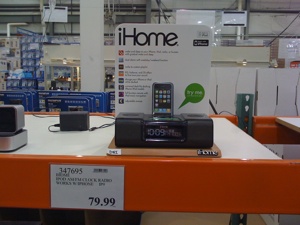 This thing is one of those dummy models. These are hateful to begin with, and something that you used to not see at Costco. I'm somewhat willing to forgive that because it's a clock radio, and can't be demo'd properly anyway without careful configuration, a radio signal, and an iPod or iPhone. This is a bit better than most dummy products, though, in that it will run through some kind of demo program if you hit the snooze bar. Unfortunately, it's unplugged, and has been unplugged on this shelf for at least two weeks. You can see the power brick there next to it. The clock radio next to it is plugged in, but if you want to demo the one that works with the iPhone — sorry, Charlie.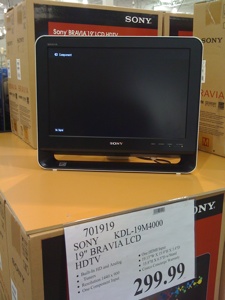 They've gone to the trouble of plugging this TV in, but not of supplying it with a signal. This might not be such a terrible thing, since it's a good price and since Sony hasn't managed yet to destroy its reputation in the TV market as they have in so many others. This is a 1440×900 display, though, which is 16:10, not 16:9 as are most TVs these days. How well does this thing actually work? How does it deal with the scaling, and with the fact that TV signals are not quite the same shape as the screen? Impossible to say without buying it and taking it home.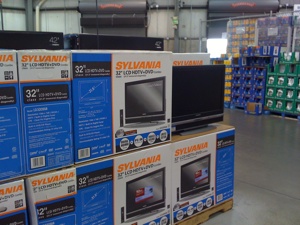 Sylvania beat Sony again? Yes, in merchandising incompetence at Costco. This one isn't even plugged in, and it certainly doesn't come with a premium brand name. Sylvania started out over 100 years ago as a company that repaired burned-out light bulbs. They don't actually manufacture consumer electronics; the company just licenses the name, in the case of TVs to Funai.
Making sure that all of this stuff is right — and particularly ensuring that the cameras have power — does take time and effort. Costco always has the manpower to have someone uselessly checking your card when you come in the door (that guy is really there to keep you from carrying stuff out the in door; you can't buy anything without a membership card, so requiring you to have one to come in is pointless), and another to 'make sure you have received all the items you paid for' when you go out the door. Preventing shrinkage is very important to their business, and they staff accordingly. Catering to the customers is at least equally important, but since this is very hard to measure it is often one of the first things to slip.
If these leading indicators are accurate, I'd expect to soon see at Costco the following continuing indicators of the same trend:
Safes on display locked so you can't see the interior.
Computers on display password-protected so they use electricity, but don't allow you to do anything other than admire the case.
More dummy electronics displays
More slightly out-of-date products, or less desirable versions (e.g. only unpopular colors of iPods, maybe)
Longer lines at the tills
Eventually, sharply falling sales and membership renewals