The new Kindle in a nutshell:
It's the same weight as the old Kindle, but it feels heavier because it's denser
It doesn't come with a case; the old case made the old Kindle much easier to hold
I'm not sure yet whether the new next/previous page buttons are better.
The five-way controller is better than the old wheel
The screen is much better, thanks to an improved controller; but there are still problems with the typography
The important points are the first and last ones.
First, weight. Or, rather, density. The old Kindle wasn't all that dense, for a modern gadget. It also had a lot of strange angles to it, which were much criticized but which almost guaranteed relatively slow deceleration should you drop the thing.
The new Kindle is denser, and it has no strange angles. The front side has a very slight bit of a dome shape to it, but that's all. The back is also made of metal, which will hold on to more deformation — i.e. it'll dent and warp if you drop it wrong, while the old plastic case was more likely to snap back to its original shape.
The density is important, too. Go climb up on the roof of your house, and take with you two spheres of equal weight. One of these spheres should be made of styrofoam, and the other should be made of aluminum. Aluminum, for a metal, isn't very dense — but it's a whole lot denser than styrofoam. Your aluminum sphere should be about the size of a baseball; I haven't done the calculations, but I think the styrofoam sphere will be at least 36 inches in diameter. When you get up on the roof, drop both spheres off over a hard surface. I'll wait while you find the spheres and climb the ladder.
What happened to your spheres? The aluminum one now has some gouges in it (some, not one, because it bounced), and if you have access to precise measuring equipment, you'll notice that it's no longer even a sphere; the whole thing deformed when it hit the ground, and didn't go back to its original shape.
The styrofoam sphere, on the other hand, is unscathed. Its surface area is so large relative to its weight that it got significant support from the air on the way down. In fact, if it's windy where you are, you probably had to jump off the roof and go running down the street after it. And, because of the same low density, styrofoam isn't going to bounce — so there's only going to be one impact to worry about.
So I think that the Kindle's increasing density and use of metal for a back plate is a step backward. The new Kindle certainly looks better, and sleeker, than the old one, but I do not think that its construction is as practical. Marketing here has triumphed over engineering; but given that most of the criticisms of the old Kindle had to do with the thing's appearance rather than its capabilities, maybe this was unavoidable.
Second, the screen. I think that this is exactly the same screen as the old Kindle, but with a better controller. This would be like keeping your old monitor, but buying a new video card for your computer. The new controller allows the Kindle to change only certain regions of the screen much more quickly than the old one did, and it allows for greater bit depth.
The better ability to change parts of the screen — something that happens constantly on your computer's screen, and which you take entirely for granted — allows for a more normal interface, rather than the strange LCD-mirror arrangement for selecting items that the old Kindle used.
The greater bit depth is a huge improvement. Arguably, the only serious failure of the old Kindle was that its typography was lousy (about which more below); most of this was due to the screen's 2-bit depth.
Bit Depth Explained
Computers think in terms of bits; a bit can be equal to either 1 or 0. Those are the only values.
For a computer to count higher than 2, it needs to use more than one bit. If you take two bits and consider their value together, you can have either 00 or 01 or 10 or 11: that's four values. If each of those values represents a color, you can have four colors. If these 'colors' are actually shades of gray, you can have:

Black, white, and two in between.
Every time you add a bit, you double the number of possible values. Three bits can have twice the possible values of two bits: you have all four of the two-bit values above combined with the two possible values of the third bit.
So where your four possible two bit values are:
00 01 10 11
with three bits you have:
000 001 010 011 100 101 110 111
Add another bit, and you can have sixteen distinct values:
0000 0001 0010 0011 0100 0101 0110 0111 1000 1001 1010 1011 1100 1101 1110 1111
And so on. If you represent these as grays, you get:

That's black, fourteen shades of gray, and white at the end.
Because of the way the eye and brain work, though, you can cleverly combine those sixteen shades of gray in such a way as to fool you into thinking that you're seeing any shade of gray, not just the sixteen that are actually present. This strip contains nothing but the same sixteen shades of gray seen above:

There's a bit of banding visible, but it still looks pretty smooth. Here's a closeup of what's actually going on there, near the middle of the strip: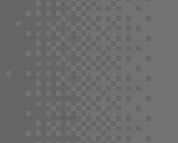 All of that is well and good, but why does this matter for displaying text? Text is just black and white, right, so you shouldn't need more than a one-bit display.
The problem is that all current displays — all the ones outside of labs, anyway — are too low-resolution for this to work well: so text on screens is anti-aliased to make it look smoother.
Here's an example. This is a 36-point Times capital 'T', blown up 800%, as it would be represented on a one-bit display that can only show black and white: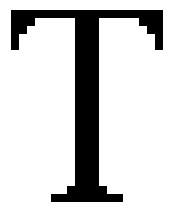 You will notice that it is quite jagged.
Here is the same T, as it would be displayed on a 4-bit display that can show sixteen colors: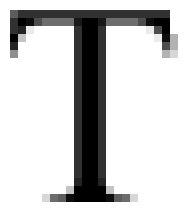 Looks kind of like a 3D comic without the glasses, but when it's displayed at normal size it looks smooth:

Any digital image — like from your digital camera — is composed of individual pixels; everything is made up of little squares, each of which can only be a single color. When you take a picture of a capital A, though, for instance, the letter doesn't come out looking like a ziggurat because the camera doesn't resolve the boundary between the slanty lines of the A and its background perfectly; if you have a red A on a white background, you get a line of pinkish pixels between the two, and if you look at the image at normal resolutions, it looks like a sharp diagonal line.
Diagonal and curved lines in images generated by computers used to be jagged, but as computer power has decreased in price it has become common to have the computer anti-alias such things, adding intermediate fuzz to the edges in such a way that the screen displays a level of detail — as perceived by your brain, anyway — that's greater than is, strictly speaking, possible given the screen's absolute resolution.
This kind of thing is particularly important when you are displaying text in small sizes on the screen. The top line here is not anti-aliased, and the bottom line is what you could display with anti-aliasing on a screen capable of displaying sixteen colors:

The second line is much easier to read, despite actually being blurry. This is particularly important when you're reading a lot of text.
That said, the improvement in the typography isn't all that it could be. Here's a comparison of the old and the new Kindle; the old one is on the left.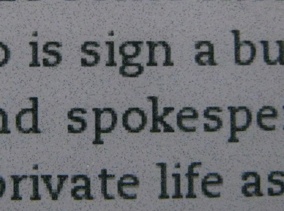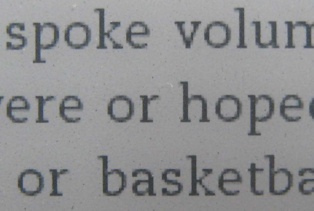 Clicking on either of those will pop up a bigger version.
The most immediate difference in these pictures is that the old Kindle has a lot more 'stuck' globules, the little black specks in the background. This is not as obvious in real life, though, and in any case it may simply represent differences in quality control between the two screens.
The anti-aliasing is indeed much better on the new Kindle, but it's hindered by the continued use of the Caecilia typeface.
While Caecilia is an attractive enough typeface, it is not a great face for body copy. When the original Kindle came out, I hypothesized that it had been chosen because of its slab serifs, which would work relatively well on a screen that's only capable of crude anti-aliasing. Here's what Caecilia really looks like:

Those square serifs make it easier to display accurately on a two-bit screen. With a four-bit screen, that's not such a big consideration, and Amazon would do well to use a better typeface.
The particularly baffling thing is that the Kindle does have other typefaces in it, Neue Helvetica at least; there's no compelling reason not to have a few more and to allow the user to make the decision about what typeface to use.
Other Things
The most baffling thing about the Kindle is that it continues to not be able to read HTML documents internally, despite obviously having an HTML renderer on board as part of the web browser. This means that for creating your own documents, you are limited to either:
Plain text;
Screwing around with all kinds of wacky opaque 'e-book maker' programs;
E-mailing your document to Amazon, where they apply #2 for you, with even more opacity and delay.
This is entirely nuts. Most of the complaints about the Kindle have been pointless; they come from people who haven't used a Kindle and who don't understand what it's for, and who therefore complain about problems that are either 1) totally immaterial or 2) actually features.
The complaints about the page-turning buttons on the original Kindle are a good example of this. Yes, the buttons were easy to hit accidentally. But keep in mind that when actually using the Kindle for its intended purpose, the user will need to press these things thousands of times. Making them easy to press is a feature, not a bug.
I've seen some complaints about the new Kindle related to the five-way controller (i.e. joystick) and the menu system, to the effect that this is too difficult and/or complicated to use. What I don't think these people realize is that you don't use these things that much. 99% of the user's interaction with the Kindle involves pushing the 'next page' button. The device is optimized for this at the expense, where necessary, of the more complex navigation.
I've also seen people vowing — swearing that they will not buy a new Kindle because it does not have the SD card slot that was present on the old one. This just, they say, makes the thing an entire non-starter for them. I'd prefer to have an SD card slot myself (I'm a big fan of not combining devices and data storage any more than is necessary), but it's not that big a deal. If you're transferring content every day, you're not reading the stuff. You can fit over 700 copies of freaking War and Peace on the thing. Expandable memory would be nice just for the ability to fiddle with the contents without dealing with the Kindle itself, but the people for whom this is a huge deal are just looking for something to be indignant about.
But the one semi-legitimate complaint that you see commonly is the one about the file formats. I explained in my original Kindle review why most of these are stupid, but I'll reiterate here.
The most common complaint is that the Kindle only supports a 'proprietary' file format. This is utterly ridiculous; it will read plain text files, which are about as unproprietary as you can get. People who complain that the Kindle 'locks you in' to any file format are either incredibly stupid, or they're trying to spread FUD.
The Kindle will also read Mobipocket files; this is also a fairly open standard, if a bit harder to work with.
The Kindle will not read PDF files. This is kind of a shame, because everyone can create PDFs; but the complaints mainly center around some huge collection of pirated PDF e-books the complainer has, and that's stupid. The pirate PDF editions you see are all formatted for either letter-size or A4-size paper, which just isn't going to work on the Kindle; the screen isn't large enough. And if you have the content in some other form — if it's your own content, in other words — you can easily convert it to something that the Kindle will read — and the resulting file will be far smaller than a typical bloated PDF.
All of these complaints would go away if the Kindle could read HTML files (or, better yet, some kind of archive format where an HTML file and any supporting images were all stuffed into a zip file). All of the Kindle's formatting capabilities would be accessible to anyone, using software they already have — and it would not require any actual capabilities that the Kindle doesn't have already — just the ability for the web browser that's already there to read HTML files from its internal storage rather than only from the network.
Mk. II Kindle Conclusions
The new Kindle is better than the old one in the most important way: the screen's bit depth. The biggest improvement that's still needed is entirely software: the thing needs better typefaces and the ability to read HTML files from its own storage.