The Daily is lousy. I'm not talking about the technology (which is lousy, and which has been criticized elsewhere anyway); I'm not sure whether I should cut them a break there, but I will, because it's early days. I'm talking, rather, about the journalism, the writing and editing: it's bad. As near as I can tell, the whole thing is shallow fluff.
It's a newspaper for people who aren't particularly interested, which raises the question: who the hell is supposed to read this thing? If you're not particularly interested in the news, you're not going to pay $1 a week for this; and if you are particularly interested in the news, you're really not going to pay $1 a week for this.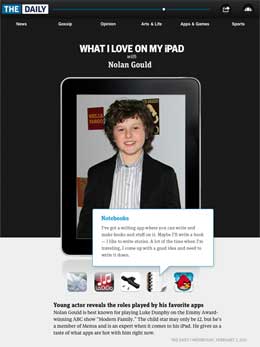 They do know one thing about all their readers: every one of them has an iPad. So there's a whole bunch of things like 'Judd Apatow: what's on his iPad' and 'What I Love On My iPad' with Nolan Gould, who is a child actor.
Mr. Gould likes, among other things, Angry Birds and Notebooks. About Notebooks, he says
I've got a writing app where you can write and make books and stuff on it. Maybe I'll write a book — I like to write stories. A lot of the time when I'm traveling, I come up with a good idea and need to write it down.
The copy informs us that Mr. Gould is a member of Mensa. News you can use.
But that's not all. The comments are lousy, there's a full-page story about Groundhog Day that consisted of a giant photo of a groundhog, and seventy-three words, including the headline and byline. This paragraph is over half the length of the entire Groundhog Day 'story'.
The 'opinion' section is small, which is probably wise given that opinions are not what you'd call in short supply on the Internet. But there is room in there for a column where Michael Maiello laments how shallow and ignorant the American public are — and while doing so, he manages to get in a swipe or two at Sarah Palin. How original and insightful.
In the end, though, these are all quibbles. The biggest problem with The Daily is that there's just not much information there. One of the lead stories today is about the snowstorm that struck much of the country yesterday. This features a movie that includes a scene of what looks like a freeway filled with abandoned cars.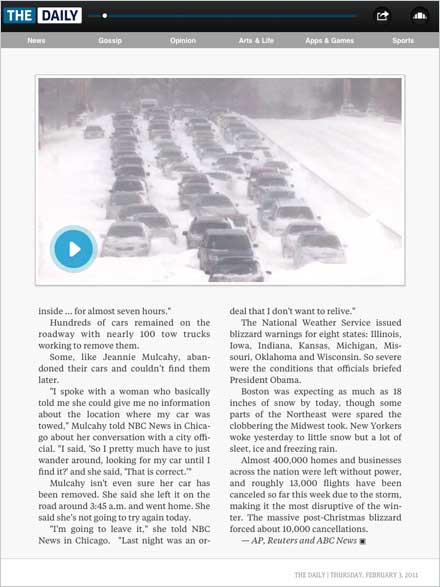 Nowhere in the story or in the movie do they say where this is. The story hints that it might be in Chicago — in which case: where in Chicago? The Daily doesn't tell us. The USA Today iPad app works better, provides far more information, and doesn't come with a subscription charge. The Professional Journalism Types working for Rupert Murdoch had exactly the same access to the USA Today app that I do, and yet they came up with this thing as their higher-priced competition.
Truly, the future of journalism.