The caption on this photo from the June 3 Warren Sentinel reads:
On Friday, May 28, checkpoints were held on East Criser Road, West Strasburg Road and Commerce Avenue. The Commerce Avenue checkpoint was a part of the 522 Blitz for the 2010 Click it or Ticket campaign.

"We conducted three separate checkpions [sic] and screened a total of 1000 cars. We had three suspended drivers, three child restraint violations and two seat belt violations overall," said Traffic Enforcement Officer Don Orye.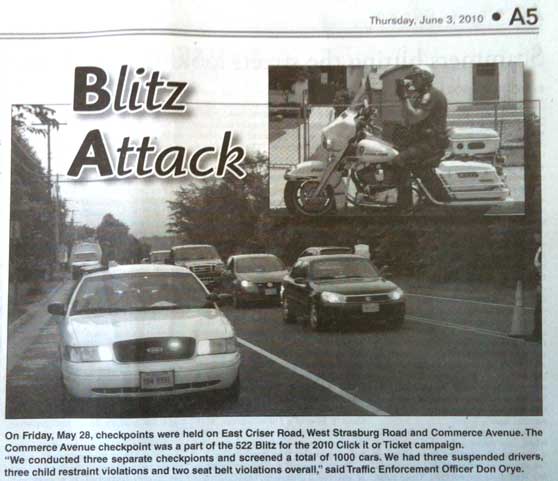 Now certainly some of the people approaching this mess weren't wearing their seatbelts, and they put them on before being checkpointed. And some people saw this and used an alternate route all together.
But since this involves 1000 cars and finding a total of eight violations — .008 of the cars, that is, or .08% — you'd think the appropriate headline would be 'Warren Countians and Front Royalty Are Exceptionally Law-Abiding' or possibly 'Tax Money Down The Tubes As Police Inconvenience Thousands To Detect Eight Minor Violations'.
Mind you, if you consider that the real point here was to detect seat-belt violations, the success rate was only .002. But if you believe that, you have to ask how they caught the 'suspended drivers'. Obviously this 'seat-belt checkpoint' involved demanding to see at least some fraction of drivers' licenses.