Whenever NPR or PBS are in fund-drive mode, they go on and on and on about how they get almost no money from the government, and how they depend on viewers/listeners like me for all of their money, and so on and so forth.
The money from the government, it's like the government buying them a coffee once in a while. Not like that, even, actually; it's like the government bringing them a cup of coffee from home. Bad coffee that they were just going to throw out anyway.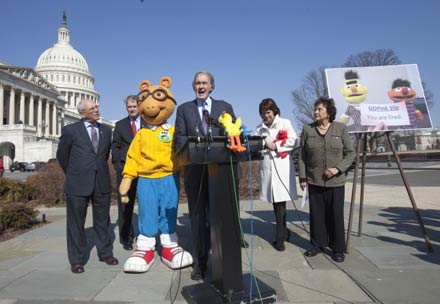 But when there's a proposal to cut government funding — when there's a suggestion that no matter how awesome Cokie Roberts and/or Elmo are, the government is broke and should stop spending so god-damned much money, and that this includes the relatively small amount spent subsidizing TV and radio for affluent whites — suddenly this is a huge crisis, and the continued existence of such heavily-merchandised characters as Big Bird, Arthur, and Bert and Ernie is in question.
They can't have it both ways.