Dec 7, '11 3:01 PM
The tree has been topped.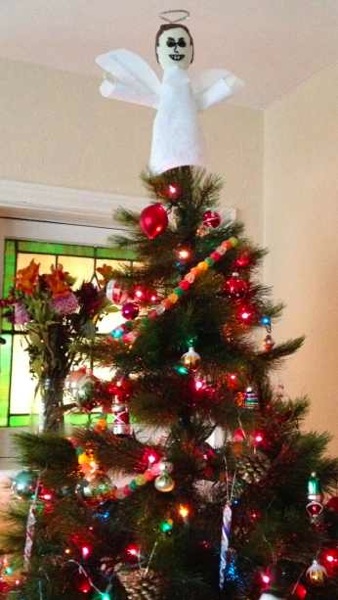 Hooray
May 10, '10 10:33 AM
A headline on the Washington Post website:
Plan to fight Metro suicides delayed
The picture this calls to mind is of a despondent guy standing on a platform while Metro cops repeatedly slug him with their fists. The question: he's despondent; would he fight back? And if he doesn't fight back, is this a 'fight' or just a guy getting a shit beat out of him?
May 10, '10 9:38 AM
Congratulations to British funnyman David Mitchell on his nomination to the U.S. Supreme Court: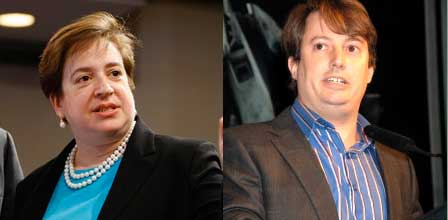 That green clarinet that causes people to reveal embarrassing truths should come in handy during oral arguments.
Nov 1, '09 2:31 PM
Because nothing quite says 'Christmas' like… an flying pig on the lawn.

Click on that thing to see a bigger picture. Go on. I dare you.
Yeah, I don't know. Maybe there's some pop-culture relationship of flying pigs and Christmas that I'm unaware of. If that's the case, this is an ignorance that I am proud to flaunt.
Perhaps I can buy a T-shirt or trucker cap with a flying pig on it and the words 'I have no idea what this has to do with Christmas'.
In what is becoming something of a tradition around here, I offer a few of the horrible Christmas things I saw while out and about today. You can't really appreciate the full horror of these things without sound and video:
The full description of each one can be seen on YouTube.
Oct 22, '09 8:33 AM
I never knew there was a term for this, but Wikipedia has put me right.
Cultural Cringe

Cultural cringe, in cultural studies and social anthropology, is an internalized inferiority complex which causes people in a country to dismiss their own culture as inferior to the cultures of other countries. It is closely related, although not identical, to the concept of colonial mentality, and is often linked with the display of anti-intellectual attitudes towards thinkers, scientists and artists who originate from a colonial or post-colonial nation.
This seems, at least by this name, to be a specifically Australian thing, but wikipedia also mentions Australia, Canada, Ireland, New Zealand, Scotland, South Africa, India, Pakistan, Bangladesh, and Sri Lanka. The United States is not mentioned in the article at all, despite the fact that most left-wingers in the USA seem to be horribly embarrassed of the country and its culture.
The Talk page mentions the United States, specifically citing the phenomenon I point out above.
I've always thought that, among lefties in the United States, at least, this is related to their general though sporadic abhorrence of nationalism in the wake of WWII, and to their belief that one should not judge another man until one has 'walked a mile in his shoes'.
The result of these is that any judgement that an American makes about Iran (for instance) is in some ways illegitimate, because the American can't Truly Understand Their Struggle; while any hateful garbage the same American spouts about fellow Americans is not only legitimate (because the Manhattanite believes that he has in some sense walked in the shoes of the Texan) but serves to prove his anti-nationalism.
Jul 23, '08 7:33 AM
Most British people, when they attempt to do American accents, generally wind up sounding like movie cowboys to my ear. Actually, just one movie cowboy: It sounds like they should be addressing everyone as 'pilgrim'.
The guy in their 'master class' recording likes to say 'Louisianer' when doing what I assume are Texan and southern redneck accents — I don't think I've ever actually heard anyone say that.
Sep 20, '07 12:31 PM
A friend of mine spends a lot of his time walking around and being disgusted by members of the public. He will then not infrequently call me on the phone to tell me about these people.
This morning, I inadvertently left my phone on Airplane Mode, and so I got this voice mail. The pitch has been shifted to protect the innocent:
Jul 27, '07 12:22 AM
When I'm on an airplane, I always like to sit by the window. The kind of people who sit on the aisle just baffle me: sure, you can get to the bathroom more easily from the aisle seat — but you can go to the bathroom anywhere. Most places do not have a SIX-MILE-HIGH VIEW.
Anyway, while on an airplane over Illinois today, I got a good view of the small town of Chenoa. Here is a crappy iPhone picture taken through clouds: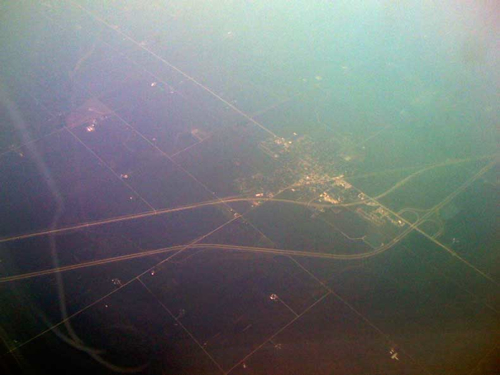 North is to the bottom left. This is the Midwest; the long straight roads run perfectly north-south or east-west (or as perfect as the surveyors could get them in the 1800s, anyway). The roads running from left to right are, from top to bottom: old US Route 66, and Interstate 55. Just north of Route 66 is a railroad track now part to the Union Pacific Railroad. The train runs through the center of town; both 66 and 55 bypass it.
Here's the Google Earth version, with north at the top: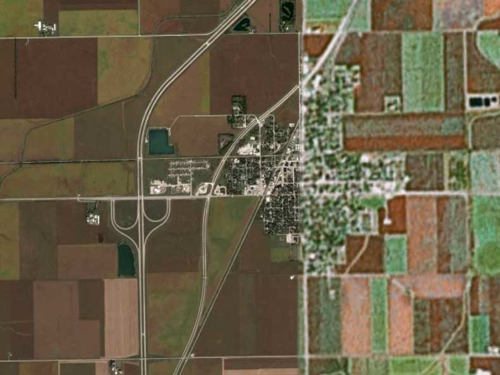 The old Route 66 is nearly as visible as the much newer, larger Interstate 55 because of the peculiar way Route 66 was redeveloped in much of Illinois. The old pavement wasn't renovated, or torn up, or anything like that — it was itself bypassed. Here's a detail of Route 66 just northwest of Chenoa: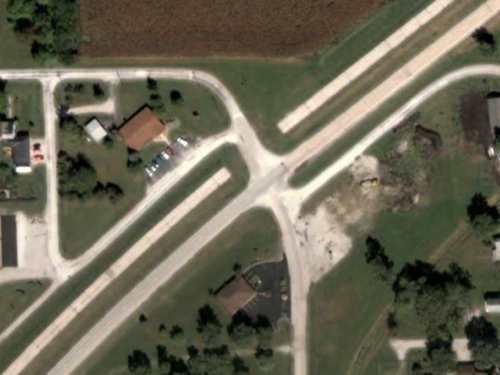 The old pavement was removed only where another road needed to cross, or where it was cleared to build the Interstate. Because I-55 in Illinois was built along the 66 alignment for most of its length, nearly all of the towns along the highway have these strips of once-famous pavement now full of cracks and weeds.