So I like the Levenger catalog. I don't actually buy much from it, because most of the things are either too twee, or they're meant for people whose work is radically different from mine. I like the idea of most of the things, though, because I like office supplies.
There are a lot of notebooks and folios and briefcases and desktop hutches and so forth. They're all very nice, and I have to admit that I'm tempted. The problem is that pretty much all of this is aimed at someone who doesn't use a computer very intensively. Which means: it's not really aimed at Tino.
I can't put one of their cubbyhole hutches on my desk because there's a giant monitor on it. I can't use their briefcases because those are really aimed at someone who carries a lot of paper and, incidentally, a computer, rather than someone who carries a lot of computer and incidentally some paper.
The more geek-centric things that they do offer aren't really up to my needs.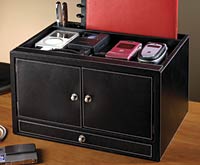 This thing is pretty neat, but it only really has room to charge four things; I need to charge six things.
This photo, though, makes me think that I might really not be a Levenger person: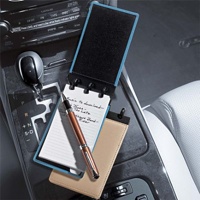 This badly-photoshopped picture shows these twee notebooks laying on the center console of a Lexus. Problem #1, and something that I'd think the smart marketing people at Levenger would have caught. Levenger customers probably do overwhelmingly drive Lexi and S-class Mercedeses and so on, but they picture themselves driving the Austin-Healey 3000s and MGAs that sit in the garage 99% of the time because they're so uncomfortable. You have to sell aspirations, not reality, and people who can afford $34 notebooks are not going to see a Lexus as an aspirational product.
This is why ads for things you want to get rich people to buy tend to include antique cars. Putting aside things like a $300,000 Bentley, most of the market for a $34 pocket notebook can afford whatever car they like. What they can't as readily afford is the luxury of sitting on the side of the road, splicing burned wires using a pocketknife: this is the luxury of the vintage British Motoring Experience. They can afford to buy the Healey, but they cannot, in any practical sense, afford to drive the thing at all often. So you sell them on that: the people in the pictures should be wearing Barbour jackets, smiling maniacally, and if at all possible smoking pipes. "See how goddamned happy we are!" you should be able to imagine them saying, "Healeying around the countryside, smoking our pipes! You, too, could be like us, if you only bought the $34 notebook!"
Problem #2: automatic transmission. Good automatic transmissions are generally better than shifting it yourself these days, but the kind of people who buy special $34 notebooks that allow your to rearrange the pages at will are going to tend to be control freaks. Even if they do drive a car with an automatic transmission, they see themselves wearing a scarf and goggles and driving around in that Big Healey.
Problem #3, the real problem. It's hard to see in this photo even at full size, but in the printed catalog it's obvious. Written in the notebook is:
Music to download –
Norah Jones –
Not Too Late
Dave Matthews Band -
Smooth Rider
Now, I have nothing against Norah Jones; the only thing that bothers me about her inclusion here is that it's a bit too facile. Levenger's ideal customer is probably a big Norah Jones fan. He — most Levenger stuff seems aimed at men — thinks of himself as cultured, but as he's too busy lawyering to pay much attention to music, he really can only listen to whatever the RIAA is pushing as Music For Educated White Adults right now.
But then: Dave Freakin' Matthews. Our white male lawyer is an adult, so he listens to Norah Jones. But he still likes to kick back with some brewskis — this is how I imagine he'd think of it — on the weekend, so he also listens to Dave Matthews. And if the iTunes Music Store sample is anything to judge by, this is not one of Mr. Matthews' better songs. Good God.
I mean: Good God. What. The. Fuck. 'Music to download'??! Our $34-notebook buyer is making his $34 notes about — music to download? I really think that this photo must have been produced by an intern, or something. "Ah, yes, I'll tootle about in my luxury Toyota, thinking about middle-of-the-road music I'll download later."
Idiocy. In the notebook you write "Rebuild carburettor" and "Arrange for hotel in Barcelona" and the like. "Music to download" my ass.
Elsewhere in the catalog that came in the mail today, they have another reminder card with "Music to download". "Smooth Rider" makes another appearance, but Ms. Jones is replaced with "Daughtry — It's Not Over". A quick check shows that this Daughtry character is a former American Idol contestant.
Maybe I'm entirely wrong about Levenger's demographic. Maybe it's not for Tools who aspire to be Independent; maybe it's for Schmucks who aspire to be Tools.
Let's see: what else is in there? There's this folio of to-do items written on color-coded cards: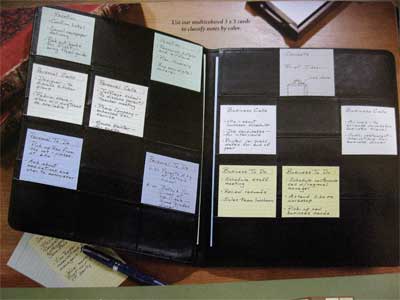 Here are a couple of those cards, close up:
Idea! No — Concept! Line the interior of an L.L. Bean tote bag! You know — for kids! Christ. Thank God for that sketch; without it, all the nuance and detail would be lost: lost I say.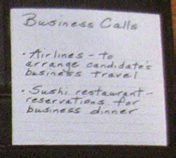 I love the repeated use of the word 'business' on this card: clearly, our Tool couldn't infer anything about the to-do items themselves from the heading on the card. He might call this generic 'sushi restaurant' — which in my mind is lit with fluorescent lights and fitted out with tables salvaged from an old Wendy's — and make reservations for something else instead! And he might accidentally send his job candidate on a vacation! He might need that conceptual bag for his head, he'd be so embarrassed. It's almost as if he has to keep reminding himself: Business, Jenkins, it's all about business! Keep focused! Business!
Maybe I've got the whole idea wrong after all. This would explain why I don't buy much from Levenger.