A proposal to replace shoeboxes. The story rubs me the wrong way almost immediately.
Product packaging is one of consumerism's most toxic byproducts — transient, temporary, and lacking the vaguely utilitarian excuse for existence that the product it contains can claim.
Yes, I suppose that shoes are vaguely utilitarian. I mean, if you're that kind of person. Sigh!
Christ, you can almost smell the contempt from here.
This is a variant, I think, of the activist's credo ('everyone is fucked but me'). The writer isn't really saying that e.g. shoes are only 'vaguely utilitarian'; she's thinking of all those other things. Packaging for TVs, for instance, that are used to watch circus-freak reality shows rather than BBC Four. Packaging for things that the great unwashed not-me wants.
The design: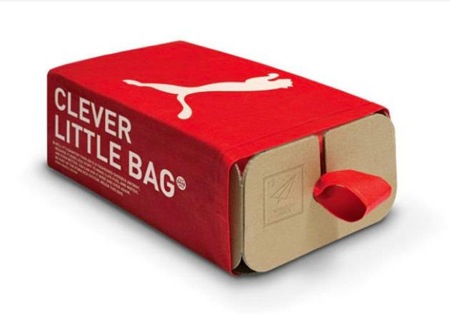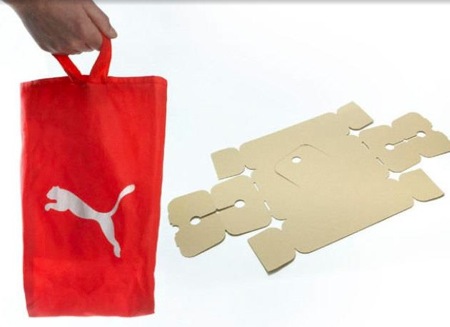 According to the story:
The innovative structure replaces both the shoe box and the shopping bag, and requires 65% less cardboard than a traditional box thanks to a carbon structure die-cut from a single flat piece of material that requires no additional printing, assembly, lamination, stapling or glueing. Rather than woven, the bag portion is stitched with heat, which means less work and waste.
Oh, joy, the carbon structure — which I think means 'cardboard'; the word 'carbon' has a pretty definite meaning, but these days it's standing in for all kinds of things — has no polymers and no glueing. And you are left with a 'clever little bag' that conveniently serves as an advertising medium.
Packaging should be reduced wherever possible; you're not going to find too many people, of any political stripe, who think that anything should be over-packaged. But what's on display here is a special kind of idiocy, because it entirely ignores the fact that a shoe box, as packaging goes, is almost perfectly recyclable. How do you recycle a shoe box? You put something else in it. There are whole chains of stores dedicated largely to selling what amount to shoe boxes without shoes in them because there are people who need more boxes than they need shoes.
Actual smart packaging redesign would approach the shoe box by trying to figure out how to make it even more reusable. Make it stronger than it strictly needs to be to hold shoes; make it better looking; make it easy to label the end of it. Boxes for kids' should be able to be easily turned into little dollhouses, or Battle-Smurf fortresses, depending on taste.
At the cigar store, they sell empty cigar boxes to people who don't like stogies but who do have some use for the boxes. Very few cigar boxes make it into the waste stream, because they're so damned useful for other things. That is the way to improve packaging: by making it better for re-use.
A genuine attempt to reduce the amount of packaging that winds up in landfills would approach the problem from that perspective. Approaches that start off by moaning about 'consumerism', though, seem always to tend to be more about self-aggrandizement by way of Grands Projets than about actually making a difference.