A much-blogged story recently informs us that only 45% of people surveyed know that the U.S. has the 'world's largest economy'.
A new Rasmussen Reports national telephone survey finds that just 45% of voters know the United States has the world's largest economy. Another 34% say it's not true, and 21% are not sure.
In case you're one of the 55% who doesn't know this, the United States does have the 'world's largest economy', and not by a little bit. The world's second-largest economy, that of the People's Republic of China, is about 2/3 the size of the U.S. economy.
I expect that the size of the Chinese economy will eventually surpass the size of the U.S. economy — and O what hand-wringing we'll be subjected to then! — if only because of the population imbalance. There are about four times as many Chinese people as there are Americans these days, so if the average Chinaman produced 25% of the value that the average American produces, the U.S. and Chinese economies would be the same size.
Remember, though, that today the Chinese economy is 2/3 the size of the U.S. economy despite having more than four times as many people contributing to it; this means that, economically speaking, each Chinese person produces as much as .15 of an American. Or, each American produces as much value as 6.3 Chinese people.
You're probably scratching your head at this, because this certainly isn't what you hear from the news media. The news never talks about the millions of Chinese who spend 100% of their time trying to wring a bare existence from the mud. The time and space they might use talking about them is instead used to make sure you're up to speed on the plight of illiterate Americans who have no value to offer anyone, and so are reduced to driving a car without air conditioning, and watching only basic cable.
A recent story in Foreign Policy is a perfect example: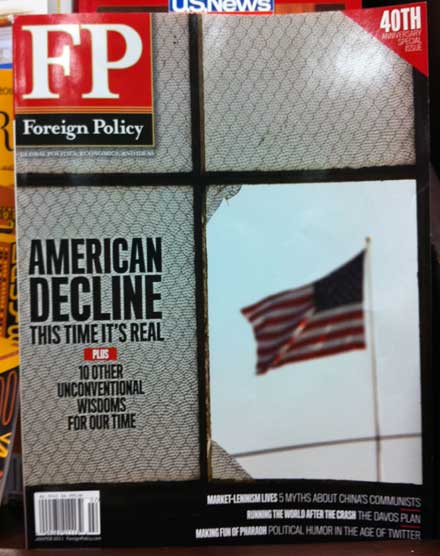 They even have to say 'this time it's for real', because they know that the media have been telling us that the United States has been in terminal decline since at least Sputnik. Most magazines can simply ignore the fact that this hasn't happened, but Foreign Policy is aimed at a decidedly brainier demographic, and they might be expected to start questioning whether this is just so much B.S.
'Plus 10 Other 'Unconventional Wisdoms', they say: because the idea that the U.S. is in decline is some zany, fringe idea? It seems to be the perennial campaign theme of the Democratic party, and it's an important sub-theme of most Republican campaigning.
So if you run an article about American Decline in your magazine, you have to point out in the headline that there's something different here, because American news magazines might as well all be called American Decline Weekly.
Foreign Policy sees this, and it even gets in a preemptive reference to The Boy Who Cried Wolf, albeit with what I'm sure they consider a neat spin in an attempt to get it to bolster their argument:
But a frequently overlooked fact about that fable is that the boy was eventually proved right. The wolf did arrive — and China is the wolf.
Oh, oh how clever. You see? The near-constant assertions along the same lines that other people have been making for the last sixty years or so (at least) aren't a reason to doubt Foreign Policy's stupid point here, but quite the opposite: they all but prove that now the U.S. is in decline, because after all the wolf does eventually come.
And that wolf, this time, is apparently China. Because they have an economy that is, on a per-capita basis, 15% of the size of the United States', and because authoritarian communist governments have long been known to issue inaccurate statistics that show that everything under their purview is just awesome.
Why do western societies, and in particular the United States, doubt themselves so?